I'm having a little nerd crisis at the moment over Chaos Marine backpacks, brought about by Lost and the Damned, and the oldskool models I love to surround myself with.
Let's start in the current day.
Current Imperial backpacks:

Current Chaos backpacks:

The main difference is the stabiliser jets at the top are on stalks on the Chaos ones. This is one of the main design features of Chaos models that give them a distinct visual identity.
Now, let's travel back to the 1990s, Citadel's Silver Age.
1990s Imperial backpacks:
1990s Chaos backpacks:

Again, the Chaos ones are characterised by the stabilser jets protuding from the backpack's body. It's nice seeing this design detail has endured through the ages.
But let's go further back, into the 1980s when this all began.
1980s Imperial backpacks: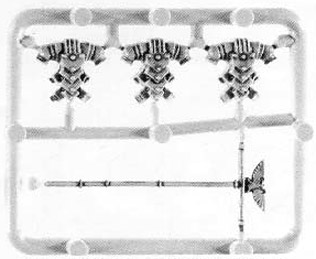 1980s Chaos backpacks: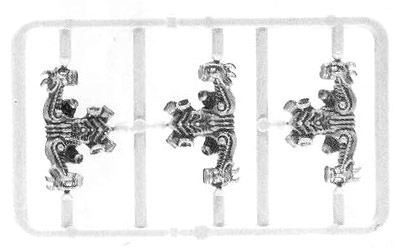 Ahh! Again, we have the stalked stabiliser jets. An original design quirk going back to 40k's fledling days.
But no! No! Look closer! The stabiliser jets are the things beneath the stalks.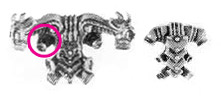 So, what's going on? What are the stalks if they're not stabiliser jets? The mystery deepens with this picture from Lost and the Damned. (Fans of Squats please look away now.)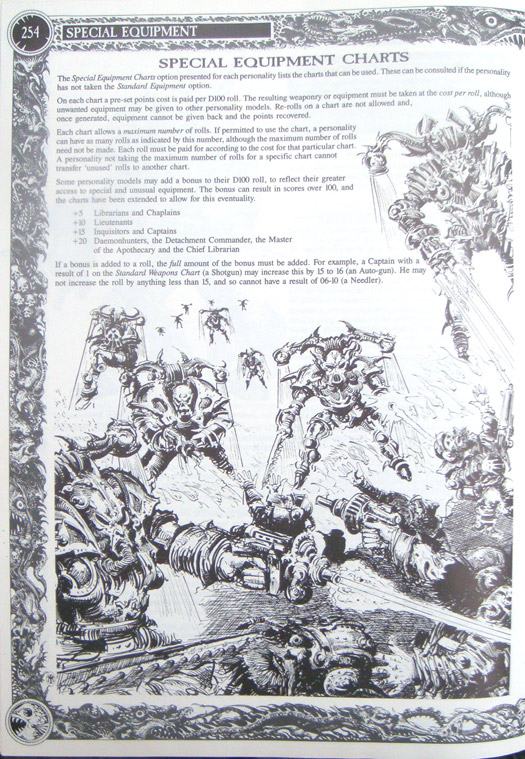 They're flying?! Is this illustration intended to illustrate some of the options on the Special Equipment Charts? Perhaps the Equipment and Bionics chart?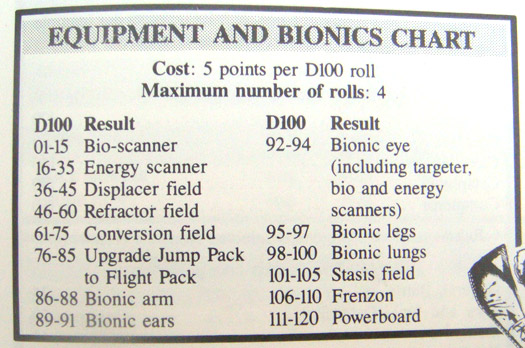 Woah! Jump Packs upgraded to flight packs?! What's the difference? Well, look it up in Rogue Trader and you get:
Flight pack. A flight pack is worn on the back. It can be either controlled by a manual control (which requires a free hand) or b direct mind-impulse link. The pack enables the wearer to fly, using a small thrust jet combined with suspensors.

Jump pack. A jump pack permits its wearer to make a long, powerful jump instead of a normal move. Unlike a flight pack, a model using a jump pack does not remain airborne, but takes off, jumps and lands as part of its movement.
Okay, so there were Jump Packs and Flight Packs. So, who had what? Well, most Chaos Marine Squads in the army lists had access to them.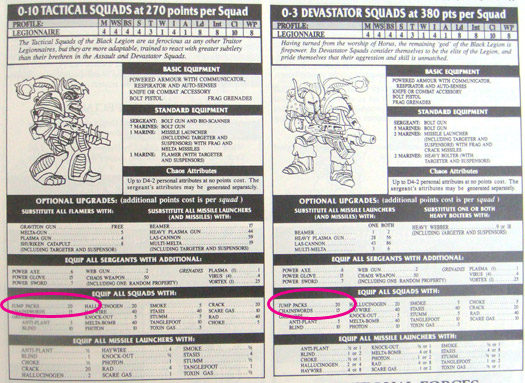 Which leads me to the conclusion that
back in the 1980s the Renegade Marine models were equipped with Jump Packs as standard
, while their Imperial counterparts had standard backpacks.
Weird really, as page 72 of 2nd edition's Chaos Codex says:
Though both jump packs and skimmers were available to the Space Marine Legions in limited quantities prior to the Heresy they were proportionally far rarer than in the later Imperial Space Marine Chapters. The complex fabrication and maintenance rituals required for jump packs and skimmers has eliminated their use by the Traitor Legions since their banishment to the Eye of Terror.
Weird how things change, no?
Labels: chaos, rogue trader
Posted by Curis at 10:46 am