Another first generation Blue Horror in the traditional Enchanted Blue scheme. Boring.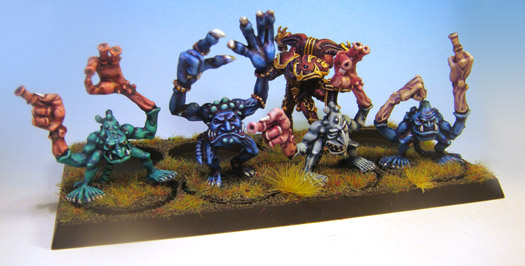 But what's not boring is the tuft of grass front centre. Yes! A tuft of grass. I have a problem with static grass in that it tends to look flattened. The effect of static grass is that static electricity pricks the strands on end, so they stand up like real grass. Mine just looks trampled. And I came across a German company -
Fredericus Rex
- who produce pre-made tufts of grass in all sorts of lengths and colours. I went crazy and ordered every variety of dried grass available. Real nerd shopping spree.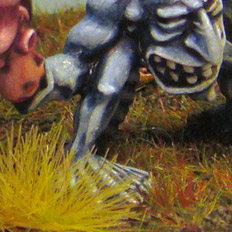 Bit too big for the individual 25mm bases (you tend to lose the feet and make the model look like he's about to stumble on a small bush), but great on movement trays and bigger bases.
Anyone got any tips for making my static grass stand up on end?
Labels: chaos, daemons, tzeentch
Posted by Curis at 9:09 am