Something more modern for Project Change - a Generation 3 Pink Horror (far right - the other models are a Generation 1 Blue Horror and a Generation 2 Pink Horror). Wow, this is not the normal crazy retro lead I obsess over, but sleek and sensible modern miniatures without big goofy grins.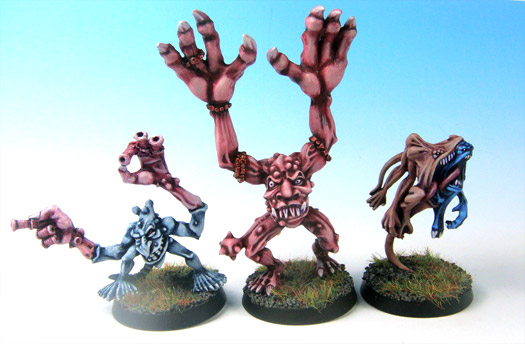 Well, I say modern - these models have tab dates of 2001, and they're also in the tiny part of the current Citadel range that's still in metal. Here's hoping for plastic Horrors with the rumoured second wave of Daemons.
I have to say , this model isn't great. This is my second attempt at painting one of this generation of Horrors, and both times I've been frustrated at the indistinct detailing. Not indistinct in the gribbly Tzeentch way of "ARGH THIS ARM IS MY MOUTH AND IT'S COVERED IN EYES", but in a subtley-detailed way that's largely lost in the molding and casting process. There are warbly bits I'm not sure if I should file off because they're tentacles or feedlines. There are what I imagine started as sharp crisp details that have been rendered down to smarbly indistinct metal wibbles during the production process. Not that fun to paint when you're trying to be a perfectionist. Maybe by the time I get round to doing the others I'll be used to the quality of the casts.
Haha - just got to work out how many variations of these models there can be with all the arms and horns.
And I now have nine horrors of various generations and scales.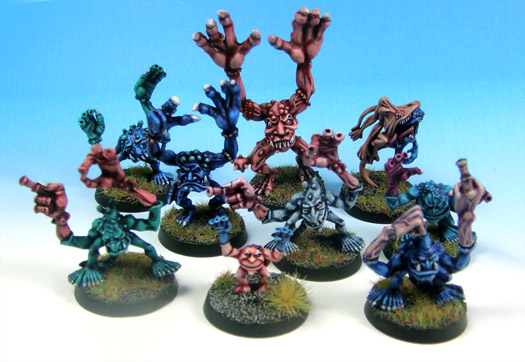 Labels: chaos, daemons, tzeentch
Posted by Curis at 9:09 am