When's a Pink Horror smaller than a Blue Horror? When it's Epic scale.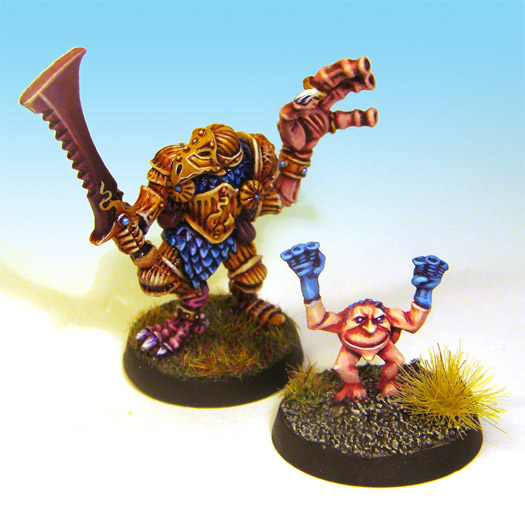 Look at his big cute smile. Grinning loon, like one of those giant cartoon M&Ms. You can see why this generation of Epic Chaos models have been swept under the carpet. That, and the fact that for a 6mm wargame they were ridiculously out of scale.
So, this Epic Pink Horror can also double as Bowie Inconstatine's familiar of Tzeentch. There are several familiar models Workshop have produced for Tzeentch, but none of them are quite the "miniaturised form of a Horror"
Realm of Chaos: The Lost and the Damned
makes them out to be.
And because I felt like one tiny Epic model was a real con for the latest Project Change update, I also did an old Dark Elf Harpy. In a pasty pink colour that combined with the lumps around his groin makes me want to itch.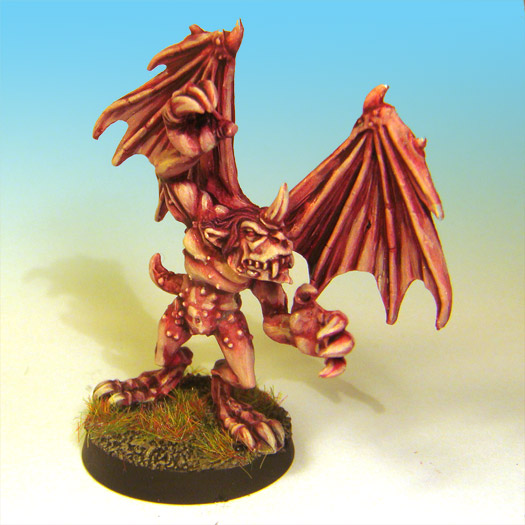 "But that's not Tzeentch. That's not even proper Chaos." I hear you cry. Well, this gem from Marauder Miniatures (yes, not Citadel) was originally a Dark Elf Harpy - one of the descendants of an outcast tribe that settled in Naggaroth near Karond Kar. But in 1997 Harpies were also available to Chaos armies (as scavengers from the Northern Wastes). Ahhh - so they can be proper Chaos. And maybe this model could be used to represent a Chaos Fury - one of the undivided Daemons that conforms to the gargoyle archetype. Perhaps. Maybe. Possibly.
Labels: chaos, daemons, tzeentch
Posted by Curis at 9:09 am