New Year, and I'll be tentatively revisiting a classic system - Blood Bowl.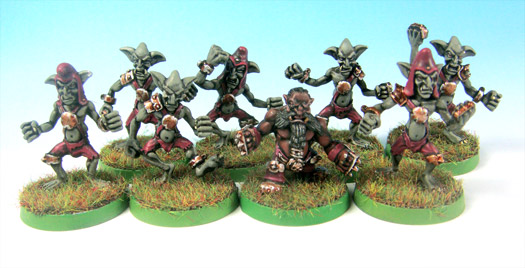 The Chaos Dwarf himself was done
back in November
, and I decided it was best to crack on with the least exciting and most numerous models in the team - the Hobgoblins. Now they're out the way I can enjoy the three remaining Chaos Dwarves, and the centerpiece - the Bull Centaur. I do need to revisit these guys and number them, but I'm unsure if they'd be the low numbers or the high numbers. Any Blood Bowlers out there that can tell me how teams are numbered? Post a comment, or email me at the address right at the bottom of the page please!
The local gaming club took a break over Christmas, releasing that everyone spends Christmas with their families and other non-gaming personages. And when New Year rocks around everyone's gone cold turkey with their gaming and is desperate to get back. But the heavy snow has frozen us in, and cancelled club night. Just look at the icicles outside my office window.
And bleeding hell, does it feel good to paint rims in the classic Goblin Green.
Labels: blood bowl, chaos dwarfs, fantasy football, hobgoblins
Posted by Curis at 8:07 am