This little fella's called Screamer. But he's not a Screamer, which is also one of Tzeentch's daemons (unbound Discs of Tzeentch), but rather a Horror called Screamer. Most the G1 minor daemons had individual names, and this is Screamer. Confused?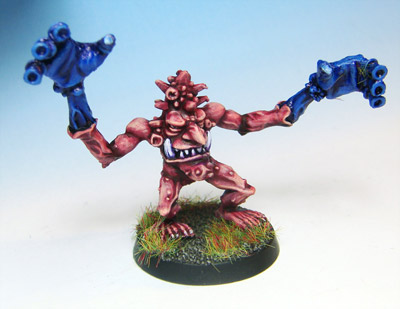 I feel this guy needs to be modelled as part of a diorama with a little plaque that reads, "It was this long".
As most my
G1 Blue Horrors
follow the scheme of blue with pink arms, I thought I'd try reversing it for the Pinks. I also feel that that the arms should change colour again at the knuckles. I, however, do not feel that the fingers should have bits of static grass stuck on them as the photo above has. Oops.
There are three variations on Screamer (and indeed all the Pink Horrors of Tzeentch) as there were three sets of legs each of the twelve bodies could be plonked atop. This means there are 36 variations on the original Pink Horrors which will mean years of trawling eBay and pestering people for close ups of their legs.
And now, here's all three generations of Pink Horror alongside each other.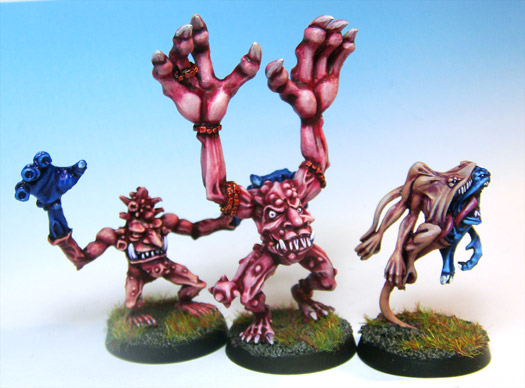 Notice how the first two iterations are broadly similar and could be mixed together in the same regiment, and how the third is a complete and very wibbly departure. (And notice how the G2 Horror in the middle needs to be modelled as part of a diorama with a little plaque that reads, "It was about this tall".)
Labels: chaos, daemons, tzeentch
Posted by Curis at 9:09 am