Hailing from the depths of 1995 comes this Marauder Miniatures Flamer of Tzeentch. This one in an experimental pale chalky scheme that's an attempt to copy the studio scheme from the 1997 Realm of Chaos.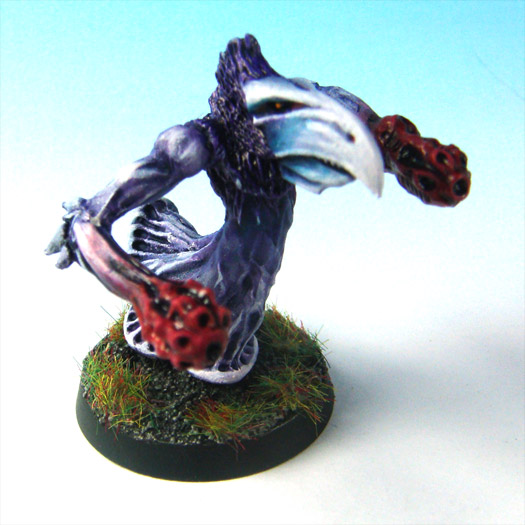 Marauder Miniatures?! They're not Games Workshop. Well, back in the days Marauder was brand that Warhammer miniatures sculpted by Ali and Trish Morrison were distributed under. They were gradually subsumed back into Citadel in 1993 (according to
Source of Legends
), though these models are tabbed Marauder and 1995. Who knows. Actually, I'm fascinated to learn the reasons behind the split and subsequent reabsorption.
I recently discovered thanks to the
Collecting Citadel Miniatures Group
that Marauder also produced a pair of Greater Daemons - one for Khorne and one for Tzeentch. I'm rather excited, as there have been several Lords of Change knocking around eBay that I've dismissed as knock-offs. But no! They are official Games Workshop models. And ones I go rabid for as they're obscure and retro. If anyone out there's got a photo of the Khorne one, I'd love to see it.
Labels: chaos, daemons, tzeentch
Posted by Curis at 9:09 pm