Presenting Maynard Flux, oldskool Champion of Tzeentch. Warrior, sorcerer, winemaker.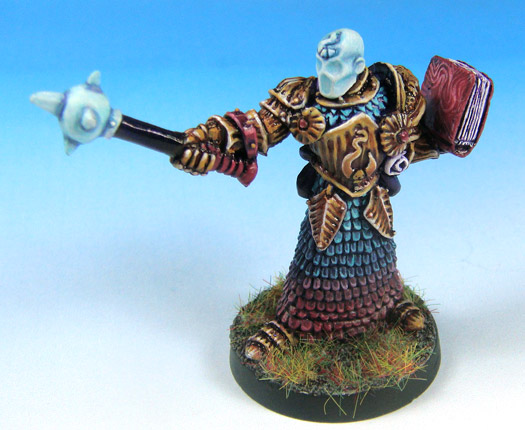 His marble-effect book I've decided is a spell book, so he gets
The Gift of Magic
. I quite like the effect, which I needed to break up the undetailed surface of the book. Well, I say undetailed, due to a combination of casting defects, the age of the model and being stripped it's not at all crisp or clean, so it needed a pattern. I'd like to try it on larger models with flat surfaces, like Eldar, or an oldskool Land Raider, or maybe some Retribution Myrmidons.
Maynard also has
Featureless Face
, and
Rune of Tzeentch
. The rune happens to be on his featureless face, meaning it isn't so featureless - but this is okay as THIS IS THE CONTRADICTORY NATURE OF TZEENTCH. That, and a wizard did it.
And (like
Inconstantine Bowie
) he deserves the runes to spell out his name and describe his attributes.

Painting one of these old Champions of Tzeentch is a welcome break from all the Daemons of late. Though, there are so many more Daemon models aligned to Tzeentch than there ever were Chaos Warriors. I may get round this by collecting five different versions of each champion - one on foot and four on each of the different Discs of Tzeentch.
Labels: chaos, chaos warrior, tzeentch
Posted by Curis at 11:09 pm